Haidee-Jo is a full-time professional artist known for painting gardens, landscapes and seascapes 'en plein air'. An elected member of the Royal Institute of Oil painters (ROI) and the Royal Society of Marine Artists (RSMA) her work can be seen each year at the Mall Galleries in London in these prestigious society exhibitions
 Haidee-Jo's favourite Michael Harding Oil Paint is Kings Blue Deep…Haidee-Jo's other Michael Harding must haves are Phthalocyanine Blue, Cobalt Blue, Cadmium Yellow Lemon, Cadmium Yellow Deep, Cadmium Red Light, Alizarin Crimson, Ultramarine Blue, Raw Sienna, Raw Umber, Transparent Oxide Red'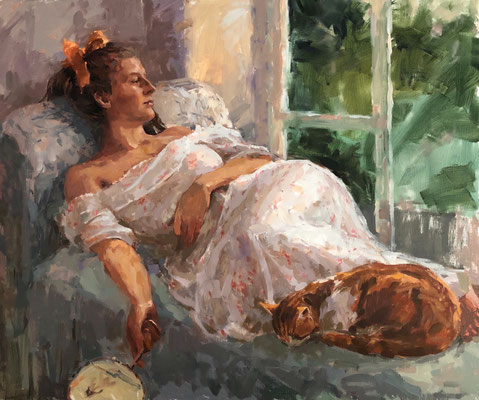 Haidee-Jo writes regularly for The Artist magazine and is proud to be one of their three editorial consultants, alongside Ken Howard RA and David Curtis ROI RSMA. Her first book on oil painting, 'Vibrant Oils' (published by Search Press), has been reprinted in Spanish, Italian, French and Chinese. She has produced a popular DVD with APV films and a second will be available soon.
Haidee-Jo gained a degree in illustration following an art foundation course and graduated in 1994. She has been exhibiting and teaching ever since, in recent years having cut back on teaching commitments to focus on painting and writing. She believes very much in continuing to grow and develop, all the while striving to express her personal voice in paint and to do so more and more succinctly.
  'My work is a celebration of light filled moments revealed in rich and vibrant oil paint using my personal visual language of fresh and direct brushmarks. Painting en plein air is central to my practice but I am equally at home working from a model, still life or interior. I find beauty in the ordinary, mundane and intimate rather than the grand vista. Coastal locations, domestic interiors and gardens and allotments provide me with rich and endless subject material.
  My approach is one of simplicity and economy, striving to make every mark count in my earnest pursuance of capturing the poetry of a fleeting effect of light.'